New Plymouth Sights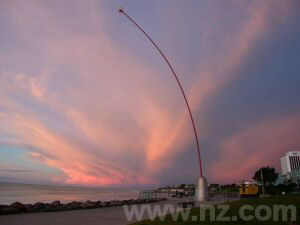 Wind Wand
A sensational sunset illuminates the sky behind the towering 45m Len Lye wind wand the focal point of the New Plymouth coastal walkway. Lye, one of New Plymouth's famous sons, was a renowned kinetic sculptor.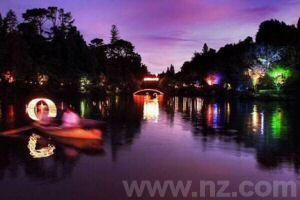 Pukekura Park
A tranquil paradise in an urban setting situated in the heart of New Plymouth, Pukekura Park is a spectacular 49ha of native forest, fern gullies, hidden dells, lakes, bridges and waterfalls. You can walk the paths, hire a row boat or picnic under the trees. Over summer, the park hosts the brilliant TSB Bank Festival of Lights.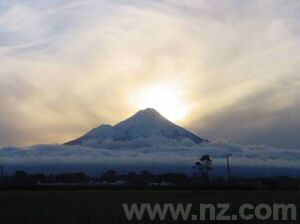 Mt Taranaki
The intense early morning sun rises from behind the 2518m high majestic Mt Taranaki.
In the Maori language Taranaki means 'Gliding Peak', a name that ties it to the legend of how it came to be in its current location: Unrequited love saw Taranaki move from the central plateau, carving the Whanganui River in the process and filling the channel with his tears.
The snowy cone of Mount Taranaki is a focal point for all kinds of adventure; hike to the top of Mount Taranaki with a professional guide. Organised summit climbs run throughout February. Drive the heritage trail around Mount Taranaki. The trail can be driven in two hours, or you can spread it over a day. In winter (June-August) visitors can ski the slopes of the Manganui ski field, which has ski hire available.
Tour New Plymouth

Sights to see in New Plymouth

Tour New Plymouth Area
58 Pioneer - Retro Studio Unit
- Holiday Home.
Set in New Plymouth, just 600 metres from Ngamotu Beach, 58 Pioneer - Retro Studio Unit offers beachfront accommodation...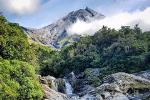 Taranaki Taster
- Maori - New Plymouth.
Starting from $389.00 per person
.
Get of the beaten track and head for Taranaki.
Trip Highlights
- Local Guide
-Small Group
-Climb to the...